RAINBOW | Self doubt is an uncomfortable beast and vulnerability rides in to weigh you down when that beast raises its ugly head. It is something that I needed to recognise and confront, to take away its power and simply see it for what it was. Stare down the self doubt, the fragile relationship we have with ourselves and conquer our fears. This is one of those 'work in progress' scenarios and this song helped me to start casting off the shackles of my own demons.   
FALLEN ANGEL | My fallen angel is free spirit and wanderlust, the one who isn't afraid to stand alone, the one who is always there by your side. I sat on the beach as the storm closed in, the harder I cried the more the wind blew and threatened to swallow me whole. When I pushed my hands into the sand my angel was there to guide me through.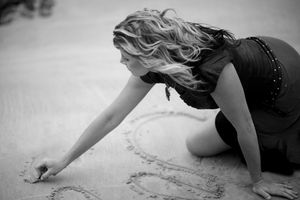 EDEN | A song for my family and a reminder to stay strong, no matter what comes your way. When you are true to yourself and listen to your heart love will always ease your burdens and help navigate life's twists and turns. The dark forces are held at bay by the powerful protector of heart and home when you affirm your connection with nature not just physically but also emotionally.  
OF MOUNTAINS AND SEA | A song for my partnership with the love of my life. Salt water and music has become our constant companions and love turns to magic near mountains and sea.   
RED BLOOD MOON | There is a strong ancient goddess stirring in each and every woman. She is calling out to the warrior within to stand strong in truth, kindness, love and compassion. She is fierce, sensual and powerful. Embrace your beauty and inner strength and release the power of the feminine divine. The pulse of the forest beats within us all. We stand, we unite and we protect.
Photography by Natalie Barovsky