Months of intense planning, scheduling, dreaming and creating have led us all here.  I am entering this ancient forest on the precipice of huge changes. 
Breathe.  Cool air.  Our focus is the tree.  Where I will be merged tomorrow morning.  Two tracks, we take the right.  
Walking this ancient forest, I am already in love with the wild place.  We are in a different world here, incredibly soft underfoot and the trees are magnificent. Stretching to the top of the canopy in this rainforest our choice seems infinite.  The tree where I will be completely merged into the bark, the whorls, the knots and soft ground beneath has not shown itself just yet.  
I take my boots off and walk barefoot.  There are no harsh edges in this special part of our universe.  Every living thing here, will eventually be completely absorbed back from whence it came from.  Moss covers everything and softens all sounds.  It feels very surreal to be walking through this ancient forest, echoes of past lives are all around me.  
We walk this trail in its entirety many times over giving us the chance to see the different light at play throughout the day.  Our merge will begin before the next day break, taking place over a three and a half hour period of time.  Light will change, shadows will dance differently over my painted body so the choice here is a carefully considered one.  
Forest path twists downward leading to an otherworldly small clearing. We come across a massive fallen trunk.  Softest green covers the slowly decaying bark. It is quite beautiful with a massive man fern standing sentinel behind it.  As I approach the tree my foot brushes a soft white mushroom. It explodes at my touch and dissolves to leave a white dust.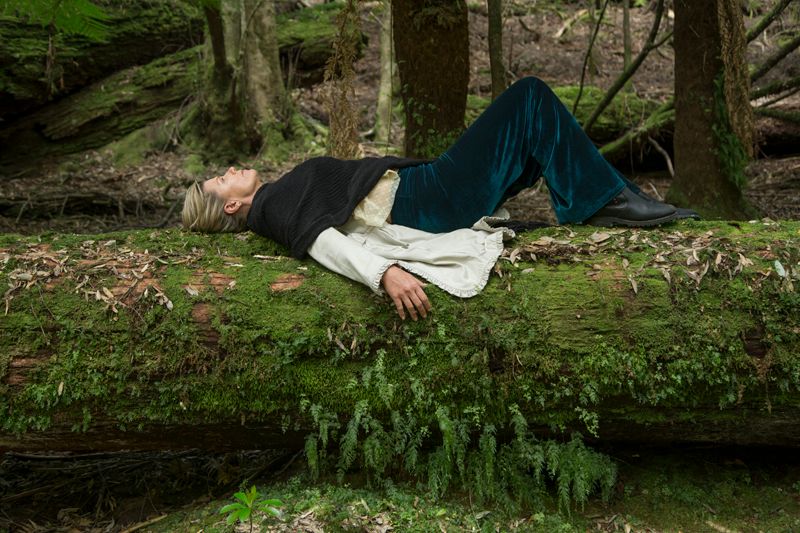 Lying on this gorgeous fallen tree, I shut my eyes and breathe in the freshest air, crisp and so pure.  A few birds call and echo and move on.  This soft bed is welcoming but this is not the tree that calls us.  We will return here though tomorrow and I shall lie again on softest moss with my forest colours on.  
I stand in front of small trees too, hopefully still decades away from reaching their tall lofty peaks.  The moss stretches its long soft fingers along the bark, caressing the tree as it trails towards the higher branches.  We find a giant, her mantle of green worn like the grandest cloak.  Her massive roots twisting down through the rich soil. I run my fingers lightly over and through this living colour before standing and breathing this majesty in.   
A different view is seen when I stand in front of a large branch, fallen at the base of two trees.  Perhaps a lightning strike, nevertheless it would have echoed for a distance in all this quiet. Although just maybe it falls softly onto its green carpet.  Ferns in varying shades of green offer the sweetest backdrop.  
I am captivated by the green I see here.  It is stunning and exceptionally vibrant.  Natures colourbox is truly delightful and a sensory journey.  Our tree though, on our continued circuit is playing hard to get.  We make our way up a small incline with natural steps leading up to a massive tree that leads my eyes to a small part of sky through the canopy.  
Truly beautiful and ohh so so close.  We make repeated trips back to this tree throughout the day.  We are not just checking for the perfect tree to merge into, it also has to be easily accessible for Orly Faya, our artist and body painter, who will be painting me for this stop motion shoot.  Not far from the tree will be our photographer Wendy McDougall taking the stills and our director Trudi who will be continually filming.  Orly needs to have her paints out of shot and walk to the base of the tree where I will be standing.  Only one or two brush strokes will be applied to my body before she will need to move out of shot and return to the paints.  This synergy will be repeated for three and a half hours.  
So so many beautiful trees and intriguing back drop with all of them, however our perfect tree is still yet to be seen.  And just when day is drawing to a close she is found.  Two tracks, our men have taken the left.  And there she is, in all her breathtaking majesty just waiting.  The scenery is sparkling in its forest finery daring us to drink this beauty in.  What magic is this, to create such wonder, welcoming us in to…..just….be. 

Continue the journey with 'Merging with takayna Rainforest'