Chance meetings are usually the best. I was having a Skype with Trudi Bird when Scott entered the frame. I was in the process of looking for a studio to record my songs with. What I needed was someone who could help me find the connecting groove between my songs that I was looking for. In other words, my signature sound and voice. Scott picked up his guitar and accompanied me, via skype, whilst I played piano to one of my songs. I knew I had found my studio.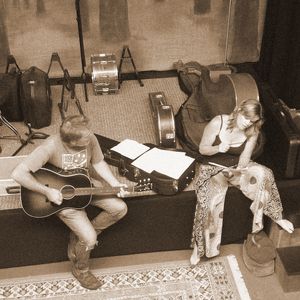 I worked closely with the team at Riversong Music which consisted of Scott (producer) and Andrew Beck (Sound Engineer). Between Scott and Andy, we had everything covered. A collection of drum kits were played by Scott to get the sound we required. This ensured the right sound for each song, each beautifully different yet that connective, distinctive groove between them all. A semi acoustic played by Scott added the dirty blues guitar sound to my tracks. Using this drew out the beauty of my piano melodies and my voice and uplifted and supported both wonderfully. Enter Andrew on a killer bass that was delightfully original and different. Riversong Music is a wonderful creative environment to record in with beautiful and comfortable surroundings. Andy and Scott have a great synergy in the studio. As the artist I was very much opened up to the best approach to a track through a combination of both Andy and Scotts advice. Laying down my piano tracks was lovely as I could play freely with innovation and creativity now that the rhythmic structure was being handled by the semi acoustic guitar. A very contemporary sound was being formed with my tracks, signature sound coming along very nicely thank you. With a beautiful rhythmic bed constructed, my vocals could now soar.

Both Scott and Andy are very approachable and open to discussions about the tracks and the direction that both artist, producer and sound engineer hear. What I really appreciated was that every process was clearly explained and I got the opportunity at all times to discuss each and every part of what we were doing in the studio. The very fresh approach that Scott and Andy use in regards to creating a sound suited me immensely. I have always strived to create a sound that was uniquely me. Scott and Andy have definitely made me stand out from the crowd with my own distinct sound. As an artist you need someone whose advice you trust and you, as the artist, also need to open yourself up to other possibilities for your music outside of your own head. I really enjoyed the whole process of diving in deep with Riversong Music and discovering the true artist in me.